AFMG Newsletter
- Issue 12, January 2011
Welcome to a new issue of the AFMG Newsletter. With this newsletter we like to inform you about new products, software updates and interesting downloads related to our products. This newsletter also provides information about upcoming classes and AFMG appearances at conventions and trade shows.
You have been subscribed to the newsletter because you expressed interest in AFMG's products in the past. To change your profile or to unsubscribe just click on the link below.
Please contact us if you have any questions. Feel free to reply directly to this email or send your comments to support[AT]afmg.eu.
Thank you,
the Team at AFMG.
Unsubscribe/Profile | Newsletter Archive
AFMG Assumes German Distribution for EASE, EASERA and SysTune
AFMG will assume the German distribution of its software packages EASE, EASERA and SysTune as of January 2011. This conscious decision will join sales of AFMG´s complete software products in the hands of the maker, thus greatly simplifying the approach for customers in German speaking countries.
Former German sales partner audioone will continue sales and support through March of this year to guarantee a smooth transition. "Our relations with audioone are very cordial." remarks Stefan Feistel, managing director of AFMG. "We have made this move with great accord to provide continuous and extensive support to our customers now and in future. All our software from audio measurement through to acoustical simulation will now be available from one distributor."
Historically AFMG has been the distributor of their applications EASE Focus, EASE Address and EASE SpeakerLab for a long time. Additionally several interesting new versions and programs will be available soon – all of them with groundbreaking improvements in the fields of acoustical room simulation and calibration of sound systems.
For details please see also:
» AFMG Press Release (English)
» AFMG Press Release (Deutsch)
AFMG at ProLight+Sound Frankfurt 2011
AFMG will be present at the PLS Frankfurt, Germany, April 6th - 9th 2011. AFMG will have its own stand, G45 in hall 8.0.
There will be several product presentations by AFMG staff at the associated Media Systems Congress:
At the stand we will be showing the latest tools developed by AFMG, including:
EASE 4.3, especially the new AURA cloud computing service
EASE Focus 2, state-of-the-art modeling of line array performance in touring applications and fixed installations
SysTune 1.2 - live sound measurements in real time
EASE Security - fast and intuitive prediction of speech intelligibility for mass notification systems
AUBION X.8, professional 8-channel measurement interface and soundcard
AFMG Reflex for modeling the scattering properties of diffusors and other surface structures
AFMG SoundFlow for simulating the acoustic properties (absorption, transmission) of multi-layer walls
EASERA 1.2 - room acoustic measurements, such as for ISO 3382 (room acoustics) and IEC 60268-16 (speech intelligibility)
Next Classes
AFMG - EASE Training, Berlin, Germany
Incorporating feedback from many participants in the years of 2009 and 2010, AFMG has revised and expanded the agenda of the EASE class by offering a 3-day entry-level class as well as a 2-day class for advanced users.
The seminars take place at AFMG's main office in Berlin, Germany. Instructor is Emad El-Saghir. Language is English.
11. - 13. April 2011 Level 1 (Entry-Level)
14. - 15. April 2011 Level 2 (Advanced)
SysTune Measurement Workshops in Germany and Switzerland
These 2-day classes run by instructor Markus Zehner provide in-depth knowledge for beginners as well as for advanced users. The seminars focus especially on tuning sound reinforcement systems using EASERA SysTune 1.1. Class schedule:
8. - 9. February 2011 in Basel, Switzerland
15. - 16. February 2011 in Heilbronn, Germany
19. - 20. April 2011 in Berlin, Germany
Markus Zehner also offers a 4-day course "Sound System Engineering", which introduces the fundamentals of sound system planning and commissioning.
11. - 14. April 2011 in Schaffenhausen, Switzerland
EASE and SysTune Classes by Renkus-Heinz
The 3-day EASE class covers the basics of using EASE 4.3 and EASE JR 4.3 with particular emphasis on room modeling techniques and basic electro/acoustic analysis. Jim Mobley and Jonas Domkus, Renkus-Heinz Application Engineers, are the instructors of most Level 1 classes.
16. - 18. May 2011 in Foothill Ranch, CA, USA
The 2-day SysTune class teaches measurement principles for live sound applications and introduces SysTune 1.1 as well as SysTune Pro 1.1 as complete measurement platforms. Doug Fowler is the primary instructor.
28. February - 1. March 2011 in Boston, MA, USA
19. - 20. May 2011 in Southern California, USA
Please also see our calendar located here:
Data Updates for EASE Focus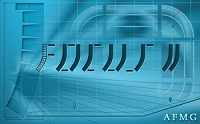 AFMG is glad to announce recent licensees of EASE Focus v2, AFMG's new 3D line array modeling software:
AD Systems, Germany
Coda Audio, Germany
D.A.S. Audio, Spain
Seeburg, Germany
The following companies recently licensed EASE Focus, the industry standard for line array modeling:
The free software download and more information are located here:
AFMG Appoints New Director of Marketing and Sales
In the course of restructuring and taking over sales of all its software products in German speaking countries, AFMG appoints graduate engineer Thilo Schuetz new director of press, marketing and sales.
Thilo Schuetz will coordinate and implement this step nationally and internationally. Stefan Feistel, managing director of AFMG is pleased. "We are proud to have won Mr. Thilo Schuetz as an experienced and committed professional for our team. He has come to grips with our company and products in no time."
Thilo Schuetz, who has worked as production manager and CTO for Gahrens+Battermann GmbH in Berlin before coming to AFMG, has many years of experience in the field of audio engineering. Next to being in charge of live sound systems for uncounted productions he also knows what's going on in the area of installations: He has been the 2007 winner of the Sinus-Award for systems integration in the "Business" category.
For details please see also:
» AFMG Press Release (English)
» AFMG Press Release (Deutsch)
New EASE Loudspeaker Data
For the EASE simulation software package, the following new data files are now available or have been updated:
C-Mark: New GLL loudspeaker data
Community: Loudspeaker data for DDS ceiling speakers series
LAX-PRO: New GLL loudspeaker data
Meyer Sound: New GLL files for MINA, M3D,M3D-Sub
Soundking: New GLL loudspeaker data
To download the latest data select "Help / Database Update" in the EASE main window.
Where to Meet Us
Next events and tradeshows:
Integrated Systems Europe, 2011 Amsterdam, The Netherlands, 1st - 3rd Feb 2011
» Details
Acoustic and Electro-Acoustic Measurement Workshop, Co-Instructor Charlie Hughes, AES Section of Atlanta, USA, 9th Feb 2011
» Details
DAGA 2011, Düsseldorf, Germany, 21st - 24th Mar 2011
» Details
ProLight + Sound 2011, Frankfurt, Germany, 6th - 9th Apr 2011
» Details
The AFMG calendar lists all trade shows, lectures and events. Find it here:
Loudspeaker Data in EASE, EASE Focus, EASE SpeakerLab and EASE Address
We often receive questions about how to generate loudspeaker data for EASE or EASE Focus. Please see the following links for more details on this and DLL / GLL data formats as well:
» Line Array Modeling in EASE 4
» GLL White Paper, GLL Viewer and additional documents