AFMG Newsletter
- Issue 15, August 2011
Welcome to a new issue of the AFMG Newsletter. With this newsletter we like to inform you about new products, software updates and interesting downloads related to our products. This newsletter also provides information about upcoming classes and AFMG appearances at conventions and trade shows.
You have been subscribed to the newsletter because you expressed interest in AFMG's products in the past. To change your profile or to unsubscribe just click on the link below.
Please contact us if you have any questions. Feel free to reply directly to this email or send your comments to support[AT]afmg.eu.
Thank you,
the Team at AFMG.
Unsubscribe / Profile | Newsletter Archive
AFMG SoundFlow Released!
With growing demand for improved sound insulation and energy efficiency, multi-layered construction utilizing modern materials has become increasingly critical in building physics and acoustical design.
With SoundFlow, models of these structures can be quickly and intuitively created to instantly deliver accurate and precise predictions of absorption, reflection and transmission.
Sound Absorption and Transmission Loss Calculator
AFMG SoundFlow provides the following set of important features:
Easy entry of layers, by means of their thickness and their acoustic material.
Common acoustic quantities such as ALPHAw, NRC, Rw and STC figures.
Supports absorption coefficient, reflection coefficient and transmission loss.
Display and overlay functions for comparison of results at different frequencies, different angles or of multiple structures.
Save absorption coefficients directly as EASE wall materials (MAT).
Full support for US Customary units, such as fractional inch.
More information and trial version:
EASE Evac Now Available!
While development and discussion of NFPA 72 continues on the American continent, in Europe the same is true for EN / IEC 60849.
EASE Evac provides an intuitive tool for designing acoustic mass notification concepts in a room, hall or building complex. The 3D simulation software quickly calculates the distribution of sound pressure levels, the signal-to-noise ratio and - most importantly - speech intelligibility, such as STI and CIS.
Fast Design of Acoustic Evacuation Systems
EASE Evac features the following functions among many:
Easy room entry by importing image, Google Sketchup, AutoCAD DXF files.
Ceiling- and wall-mounted sound sources.
Direct SPL, Total SPL, SNR, STI, CIS, ALCons.
Room acoustic calculations using given RT or acoustic surface materials.
Calculation engine based on EASE 4.3 and GLL loudspeaker data.
Supported by leading companies from pro-audio and life safety.
More information and trial version:
Database Update for EASE Focus
Recently the following companies licensed EASE Focus v1 or v2: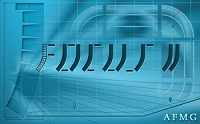 Audiocenter, China
dBTechnologies, Germany
STS, Argentina
New data files are available for:
FZ, Brazil
Maga Engineering, Spain
Tecnare Sound Systems, Spain
The free software download and more information are located here:
New EASE Loudspeaker Data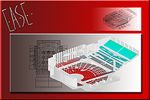 For the EASE simulation software package, the following new data files are now available or have been updated:
Bosch: Updated GLL loudspeaker database
FZ: GLL Update for J08
Proso: New GLL loudspeaker models
To download the latest data select "Help / Database Update" in the EASE main window.
Upcoming Classes
Next classes taught by AFMG or partner companies:
EASE Training, Chennai area, India, supported by SoundWizard:
3. - 5. October 2011 Level 1 (Entry-Level)
6. - 7. October 2011 Level 2 (Advanced)
"Akustische Simulation und Beschallungsplanung mit EASE", by TU Berlin, Germany:

EASE Training, Lawrence, KS, USA, supported by AFMG:
15. - 17. November 2011 Level 1 (Entry-Level)
18. - 19. November 2011 Level 2 (Advanced)
EASE Training, Foothill Ranch, CA, USA, by Renkus-Heinz:
14. - 16. November 2011 Level 1 (Entry-Level)
The AFMG calendar lists all trade shows, lectures and events. Find it here:
Where to Meet Us
Next events and tradeshows:
2011 PLASA, London, UK, 11. - 14. September 2011
» Details
131st AES, New York, NY, USA, 20. - 23. October 2011
» Details
162nd ASA, San Diego, CA, USA, 31. October - 4. November 2011
» Details
The AFMG calendar lists all trade shows, lectures and events. Find it here: