AFMG Newsletter
- Issue 16, November 2011
Welcome to a new issue of the AFMG Newsletter. With this newsletter we like to inform you about new products, software updates and interesting downloads related to our products. This newsletter also provides information about upcoming classes and AFMG appearances at conventions and trade shows.
You have been subscribed to the newsletter because you expressed interest in AFMG's products in the past. To change your profile or to unsubscribe just click on the link below.
Please contact us if you have any questions. Feel free to reply directly to this email or send your comments to support[AT]afmg.eu.
Thank you,
the Team at AFMG.
Unsubscribe / Profile | Newsletter Archive
AFMG Strengthens Sales and Support in EMEA and India
AFMG has made significant changes to distribution and support of its software products. The company will sell its software, including EASE, EASERA and SysTune, direct to customers in Europe, the Middle East, Africa and India as of September.
AFMG announced these changes to its international partners from all over the world who had gathered in Berlin for the company's bi-annual Partner Meeting. The occasion also marked AFMG's 30th anniversary.
"When we started to simulate room acoustics in 1981," said Professor Wolfgang Ahnert, "we could not foresee what an amazing success story EASE would become. Over the last three decades, the power of digital technology has surpassed all our expectations, and so has industry acceptance of EASE and of our other products."
Main Distribution and Support Structure
For the region of Europe, the Middle East, Africa as well as India, AFMG will offer sales and support for all their products directly from the Berlin headquarters:
Sales & Support
sales@afmg.eu
support@afmg.eu
+49 / 30 / 467 092 – 30
GMT+1 office hours
Customers from the Americas and the Pacific Rim can purchase software and receive support both from Renkus-Heinz and from AFMG´s own US-based staff:
Renkus-Heinz
sales@renkus-heinz.com
AFMG-support@renkus-heinz.com
+1 / 949 / 588 9997
GMT-8 office hours (west coast)

US Sales & Support
sales@afmg.eu
support-us@afmg.eu
+1 / 855 / 411 – AFMG
GMT-6 office hours (central time)
AFMG Software Updates
The following free software updates have been published recently:
EASE Evac v1.0.7 (Sep 2011)
Fast Design of Acoustic Evacuation Systems

» Details

AFMG Sound Flow v1.0.9 (Sep 2011)
Sound Absorption and Transmission Loss Simulator

» Details

AFMG Reflex v1.0.6 (Sep 2011)
Reflection, Scattering and Diffusion Simulator

» Details
AFMG & IOSONO Team Up to Advance 3D Auralization
IOSONO, a leading provider of spatial audio systems and AFMG recently teamed up to develop a strikingly new approach to making virtual acoustical environments audible.
"Architects, their clients, engineers or even movie sound designers will enter into a new world of possibilities to engulf listeners in the sound of a virtual surrounding," explains Frank Melchior, CTO at IOSONO.
"Just imagine that a number of listeners can all enjoy an identical acoustical experience at the same time, no matter where in the room they are sitting," adds Stefan Feistel, Manager of AFMG. He continues, "Architects will hold their presentations not only with a slideshow of photo-realistic pictures but talking live within the acoustical situation of the room simulated in EASE. Designs of concert halls, cinemas, sound recording studios can all benefit significantly by such a solution."
The two companies will employ IOSONO's IPC100 audio processor and dedicated realtime convolution filters calculated by EASE to render a spatially oriented auralization throughout a large listening area. The IPC100 ideally expands the virtual sound field even of small to mid-sized loudspeaker arrangements using IOSONO's spatial reproduction algorithms based on wave-field synthesis. A listener's turn of the head will give the same impression as turning inside the venue auralized.
New EASE Loudspeaker Data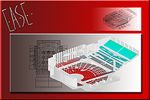 For the EASE simulation software package, the following new data files are now available or have been updated:
Community: D Series Surface (new) and iBox Series (update)
MeyerSound: New GLL for SB-1
Tecnare: New GLL loudspeaker data
UTC Fire + Security: New loudspeaker data
To download the latest data select "Help / Database Update" in the EASE main window.
Upcoming Classes
Next classes taught by AFMG or partner companies:
EASE Training, Antwerp, The Netherlands, supported by APart Audio:
12. - 14. December 2011 Level 1 (Entry-Level)
15. - 16. December 2011 Level 2 (Advanced)
EASE Training, Rio de Janeiro, Brazil, by IATEC:
7. - 10. February 2012 Level 1 (Entry-Level)
EASE Training, Foothill Ranch, CA, USA, by Renkus-Heinz:
20. - 22. February 2012 Level 1 (Entry-Level)
The AFMG calendar lists all trade shows, lectures and events. Find it here:
Where to Meet Us
Next events and tradeshows:
2012 NAMM, Anaheim, CA, USA, 19. - 22. January 2012
» Details
ISE 2012, Amsterdam, The Netherlands, 31. January - 02. February 2012
» Details
The AFMG calendar lists all trade shows, lectures and events. Find it here: