AFMG Newsletter
- Issue 17, February 2012
Welcome to a new issue of the AFMG Newsletter. With this newsletter we like to inform you about new products, software updates and interesting downloads related to our products. This newsletter also provides information about upcoming classes and AFMG appearances at conventions and trade shows.
You have been subscribed to the newsletter because you expressed interest in AFMG's products in the past. To change your profile or to unsubscribe just click on the link below.
Please contact us if you have any questions. Feel free to reply directly to this email or send your comments to support@afmg.eu.
Thank you,
the Team at AFMG.
Unsubscribe / Profile | Newsletter Archive
Meet us at PLS Frankfurt!
Consultants, technicians, manufacturers, distributors and all other audio-enthusiasts again are most welcome to visit ProLight & Sound fair from March 21st to 24th, 2012 in Frankfurt/Main, Germany and join us at our booth. AFMG will be exhibiting in the midst of Hall 8.0, booth E34.
Join us to meet our specialists, talk about our products, and have a look at the new AUBION X.8! We will be celebrating the release of EASE Focus 2.1, start the official countdown for SysTune 1.2, and more:
SysTune 1.2 - live sound measurements on mobile devices, fast subwoofer delay alignment.
AUBION X.8, first professional 8-channel measurement interface and soundcard based on ethernet.
EASE Focus 2.1, state-of-the-art modeling of line array performance in touring applications and fixed installations.
EASE Evac - fast and intuitive prediction of speech intelligibility for mass notification systems.
AFMG SoundFlow for simulating the acoustic properties (absorption, transmission) of multi-layer walls.
AFMG Reflex for modeling the scattering properties of diffusors and other surface structures.
AUBION X.8 Now Available!
After an intense development period, German companies AFMG and DSPECIALISTS have released the AUBION X.8, an 8-input high-end measurement device utilizing standard Ethernet as the means of connection.
The X.8 was purpose-designed for highly accurate and stable performance with professional audio measurement systems such as AFMG's EASERA and SysTune. A sophisticated hardware/driver combination and a brilliantly simple user interface help avoid network hassle and tedious tuning.
Prices and Distribution
The AUBION X.8 is now available worldwide directly through DSPECIALISTS. The announced retail price is 1,400 EUR / approx. 1,900 USD. A limited number of devices will be selling at an introductory price of 1,100 EUR / 1,450 USD. To purchase the AUBION X.8 together with EASERA or SysTune, please see the AFMG Price List.
More details on the X.8 can be found at:
EASE Focus 2.1 Released
The new version of EASE Focus 2.1 is a free upgrade and includes the following changes:
French language added.
Expanded and improved DLL interface for configurable loudspeakers.
Improvements to file size of saved projects.
Bugfixes in print report: Pinpoint name is fixed. Array weight added.
Bugfixes for groundstack configurations.
Various minor improvements and additions.
New Loudspeaker Data for EASE and EASE Evac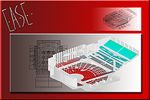 For the EASE and EASE Evac simulation software packages, the following new data files are now available or have been updated:
Australian Monitor: New GLL loudspeaker data
Bosch: GLL loudspeaker data for new LC4 Wide series
Community: Updates to VLF Subs and IBOX Series
Cooper Wheelock: New GLL loudspeaker data
IBO: New GLL loudspeaker data
ic audio: New GLL loudspeaker data
JBL Pro: New loudspeaker data
LAX-PRO: New GLL loudspeaker data
TOA: GLL loudspeaker data for SR and HX series
To download the latest data for EASE select "Help / Database Update" in the EASE main window.
To download the latest data for EASE Evac go to EASE Evac Downloads and follow the instructions.
Database Update for EASE Focus
Recently the following companies licensed EASE Focus v2: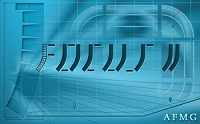 Amadeus, France
HK Audio, Germany
TOA, Japan
New data files are available for:
The free software download and more information are located here:
Upcoming Classes
Next classes taught by AFMG or partner companies:
EASE Training, Dubai, UAE, supported by Renkus-Heinz:
28. - 30. April 2012 Level 1 (Entry-Level)
2. - 3. May 2012 Level 2 (Advanced)
EASE Training, Foothill Ranch, CA, USA, by Renkus-Heinz:
14. - 16. May 2012 Level 1 (Entry-Level)
EASE Training, Berlin, Germany:
29. - 31. May 2012 Level 1 (Entry-Level)
1. - 2. June 2012 Level 2 (Advanced)
EASE Training at InfoComm, Las Vegas, NV, USA:
10. - 11. June 2012 Level 1 (Entry-Level)
EASE Evac Training at InfoComm, Las Vegas, NV, USA:
14. June 2012 10:30 AM
14. June 2012 12:30 AM
More classes have been scheduled already. The AFMG calendar lists all trade shows, lectures and events. Find it here:
Where to Meet Us
Next events and tradeshows:
ProLight+Sound 2012, Frankfurt, Germany, 21. - 24. March 2012
» Details
NFPA 2012, Las Vegas, NV, USA, 11. June - 14. June 2012
» Details
InfoComm 2012, Las Vegas, NV, USA, 9. June - 15. June 2012
» Details
The AFMG calendar lists all trade shows, lectures and events. Find it here: