AFMG Announces Record Year for 2019, Invests Heavily in EASE 5
Within the last year AFMG® successfully brought great development results to the market:
In autumn 2019 we released a major upgrade for the AURA module to version 4. This enabled EASE® users to perform advanced acoustical investigations even more effectively. AURA 4 has already been installed on hundreds of machines in more than 30 countries. The feedback we have received is overwhelming.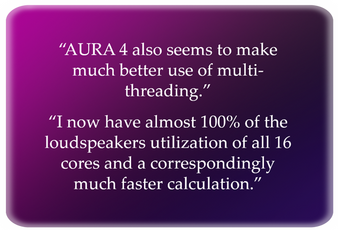 EASE 5 Early Adopter Program was started, giving a first group of EASE 4 users access to the current version of EASE® 5 under development. Their feedback is very valuable to us in order to work on suggested new features. This allows us to better assure the future release of EASE 5 will enable our customers to effectively work on their acoustic and sound system design projects.
If you are an EASE 4 user, do not miss the chance to actively participate in the EASE 5 Early Adopter Program and development. To get an interesting overview of the new features and the status of EASE 5, you can also stop by our booth at Prolight + Sound in Frankfurt, Germany or InfoComm in Las Vegas, USA.
All in all, 2019 was a record-breaking year for AFMG. Due to a growth of more than 10%, the company again achieved the highest revenue in its history. Accordingly, several substantial investments as well as hiring additional staff members have been put on the agenda for 2020.
We wish our customers and partners a successful year 2020 and look forward to our cooperation together.To stay current regarding our product updates, seminars and trade shows, please register for AFMG News.