AFMG Celebrates FIRmaker Patent with a Special Price Offer
Image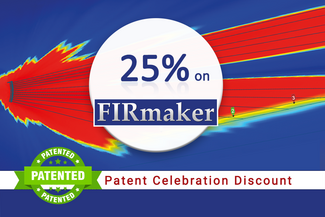 AFMG FIRmaker® is the revolutionary sound optimization technology developed by AFMG®, which was first brought to market in 2014. Due to the innovative and groundbreaking nature of FIRmaker, AFMG has consequently filed patent applications in key markets. Following the European patent already granted in 2016, we are very pleased to announce that a patent has now been granted for the USA as well. Both patents also cover AFMG's 3D beam steering technology, which was introduced in 2018.
We want to celebrate the granting of the US patent with a 25% discount offer on all new AFMG FIRmaker licenses. Sound system manufacturers now have the ultimate opportunity to participate in this pioneering innovation!
With FIRmaker the potential of line arrays and digitally steered columns can finally be unleashed. Instead of trial and error, FIRmaker´s algorithm calculates the FIR filter settings needed to achieve the best listening experience at all locations in the room.
FIRmaker puts the sound where it belongs!
It removes numerous constraints of optimizing the sound for a particular sound system in a particular venue. This is especially true for the following tasks that regularly occur in practice:
Optimizing for even distribution of SPL
Maximizing the system SPL output
Avoiding radiation of sound into specific parts of the room
Optimizing for high speech intelligibility
Other plus points include the ease of use and the universal applicability of the technology, as FIRmaker can be used for any loudspeaker arrangement with FIR-filter functionality, whether mechanical line arrays, loudspeaker clusters, and/or column loudspeakers. It can even be applied to systems already deployed in the field.
To make a long story short: AFMG FIRmaker is a must for manufacturers who want to ensure that their products can face the future with confidence. FIR processing capabilities have become omnipresent, and at the same time, users increasingly expect more flexible and powerful solutions requiring innovative and forward thinking in every product development.
AFMG's celebration offer until December 31, 2021:
Start now with an extended DEMO license, offered for up to 3 loudspeaker systems instead of 1, and
for a longer period of 6 months instead of 2!
Get the celebration discount of 25%!
Additionally, benefit from the installment option that has just been extended until the end of the year.
End users who would like to obtain an idea of the possibilities available to them when using FIRmaker in practice
will find a DEMO system in EASE Focus for illustration.
Contact the AFMG sales team for questions or for your individual quote.