AFMG presents EASE 5 First Edition at ISE 2023
Image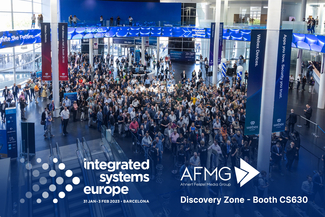 This year, AFMG® will be exhibiting at the ISE for the first time! The tradeshow is taking place from Jan. 31 until Feb. 3 in Barcelona, Spain. You will find us in the Discovery Zone, at booth CS630.
We're looking forward to present our company news at this European hotspot for integrated systems and to show our software to project engineers, acousticians and system integrators dealing with design projects, equipping venues or planning live events.
In particular, AFMG would like to draw acoustics engineers' attention to our new software EASE 5 First Edition, released in October 2022. This state-of-the-art technological platform represents the starting point for a new era of simulating sound systems and room acoustics. The software provides high usability and the basis for fast development of features that are delivered to users continuously. At our stand, we will be glad to give you a comprehensive overview of the software. We will show the main functions of the software, the latest features implemented since the release and we will give an outlook on our short-term roadmap.
In addition, designers of mass notification systems are invited to have a look at the new version of EASE Evac (v2), bringing new functionalities such as cumulative distribution and threshold calculation, reporting extensions, as well as an important update on speech intelligibility according to the most recent edition 5 of the STI standard IEC 60268-16.
Last but not least, our widely used software EASE Focus for simulation of sound systems is presented to all interested sound system designers and integrators. The GLL database of EASE Focus includes speakers and line arrays of more than 80 prestigious manufacturers worldwide supporting this simulation tool that is free for the end user.
We're looking forward to meet you in person at our booth CS630 and to engage in direct exchange about your projects and our software!
If you do not attend the show, please have a look at our innovative new software EASE 5-FE and make sure to be registered to AFMG News to receive new information on a quarterly basis.