AFMG will be exhibiting at InfoComm 2022
Image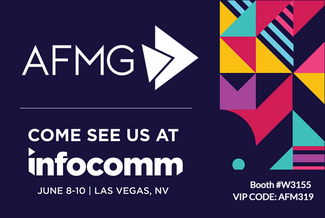 A lot of time has passed since we last had the chance to meet face-to-face with you. We appreciate the upcoming InfoComm as the first opportunity to talk with customers, friends and partners from the industry and to provide you with the latest software news from AFMG®:
First and foremost, we are making great progress in the development of the new EASE® version. The range of functions is growing steadily from month to month. At the show we will present the current development status to our visitors, give insight into the features in place, and inform you about our future plans.
In addition, we would like to take an opportunity to broadly introduce the remarkable improvements for calculations in EASE which are not yet known to many users. The room acoustic add-on module AURA for EASE Standard was updated to version 4 about two years ago. This 64-bit version takes memory utilization, calculation speed, and result quality to a whole new level. Promotional pricing will be offered to anyone interested in the upgrade.
You can also take the chance to get to know EASE Evac in more detail – a software from AFMG that was specifically tailored for the planning and simulating of mass notification and evacuation systems. EASE Evac is an ideal addition to your software portfolio as it will greatly speed up and simplify work on projects of this kind. Visitors of our booth can take advantage of an exclusive discount on the purchase of the software.
Updates have also been released for a range of other AFMG products. Here are a few examples:
EASE Focus: Major extension of the GLL Plug-In API plus various improvements in the context of line array configuration
SoundFlow: C and Ctr for the bandwidth of 50 Hz to 3150 Hz according to ISO 717-1
EASERA: Improved memory management for multi-channel measurements
EASE: Support for Apple computers with M1 processors, and more
EASE SpeakerLab and GLL Viewer: Support for speech signal spectrum according to IEC 60268-16:2020 (STI standard)
FIRmaker 3D: Innovative 3D beam-shaping technology employed by more loudspeaker systems
Stop by booth #W3155 - there are a lot of new things to learn and discover!
Our VIP code for free admission is: AFM319
Image

If you would like to make an appointment with our tradeshow team in advance, simply send us an email via our contact form.
We are looking forward to meeting you!