EASE 5-FE now supports full data import of sound system configurations
Image
Loudspeaker configuration files in AFMG's text-based XGLC format are used to exchange the setup information for a line array, steerable column, or multi-way loudspeaker. They include data such as the number of array elements, the cabinet splay angles, the input configurations, as well as any filter settings and auxiliary information.
They are the result of evaluations and optimizations performed for a given venue using sound system setup tools and line array design software. These can be solutions offered by some loudspeaker manufacturers* or EASE Focus - AFMG's brand-independent software solution for loudspeakers and line arrays. This applies particularly to line array configurations created with dedicated EASE Focus plug-ins or FIRmaker filters.**
The first implementation of the import of XGLC files into EASE 5 considered only the mechanical settings stored in them. Subsequently, support for further configuration aspects has been added such as input configurations, internal and external filter settings, as well as related IIR and FIR filters. Since subversion 54, all configurations can be completely imported into EASE 5 and serve as a starting point for further optimizations and adjustments such as
Sound system simulations in 3D room models,
Optimization of loudspeaker coverage and overlap,
STI investigations for which the acoustical behavior of the room needs to be regarded,
Extension to larger sound systems with comfortable management functions such as for the full signal processing chain, grouping, and copying and pasting.
Image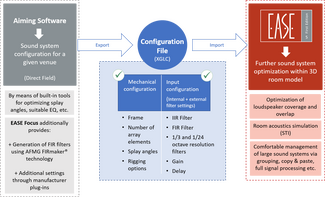 Thanks to the straightforward data exchange between purpose-specific aiming software and EASE 5, sound system designers can now very easily take the next step in their work and thus gain more confidence for their project planning and investment!
Read more about the new tools and workflows of EASE 5!
20% Bundle Discount
Starting with EASE 5 is especially attractive now, as a 20% bundle discount is available for a limited time!
The discount will automatically be granted when purchasing multiple licenses with the same feature level and license term in the AFMG Online Store.
Important note: EASE 4 users upgrading to EASE 5 will retain their existing EASE 4 license. In this manner, the transition to the new platform can happen smoothly and will take into account already running projects.
Image

* For example: d&b audiotechnik "ArrayCalc", EAW "Resolution", Harmonic Design, JBL "LAC 3.6", Kling & Freitag "ConSequenza", L-Acoustics "Soundvision", Martin Audio "Display 2", Renkus-Heinz "RHAON II", Steffens Systems
** Manufacturers with dedicated GLL Plug-Ins for EASE Focus: Biamp, D.A.S. Audio, dBTechnologies, RCF, Sony