October 4, 2022 
New Approach. New Platform. New Software.
Our vision
At AFMG our goal is to create acoustic simulation software that provides precise results, that is easy to use, and that supports our customers to deliver better solutions to their clients.
For over three decades, EASE software has set the standard in acoustic simulation. Coming from a purely academic environment, the scope of application has moved to a business environment with a stronger focus on the customer. Today, thousands of acousticians, consultants, design engineers, installation companies and other professionals worldwide rely on EASE for their daily work.
However, over time, the expectations of software users regarding the usability and accessibility of modern software have changed significantly. For this reason, we went all the way back to the drawing board and gave EASE a fresh start by bringing it to a new platform and by implementing new technologies. This process went along with establishing a modern agile development approach designed for continuous feature delivery supported by a new quality control environment and a user-centric implementation philosophy.
With the newest version of the EASE software, AFMG is paving the road for the next generation of acoustic simulation solutions. We want to make it easy and fast to create a computer model of the sound system and the room that is reliable, representative, and accurate. Using cutting-edge technologies, we want to create innovative, powerful tools to analyze, to understand, and to optimize the acoustics of a venue. As technical solutions for acoustic challenges evolve, so does our software - this journey has now reached a new milestone.
For the future of EASE, we envision a software that is, for example, capable of:

Moving to a new platform
Due to the immense range of functionality that AFMG has achieved with EASE versions up to 4.4, the reimplementation of required functions and specific features on the new platform has to take place in several, defined steps.
That is why the feature set of the new software initially covers much, but not the entire feature set of the EASE 4 predecessor. More functions are following, depending on their significance in modern workflows and design considerations.
Similarly, the scientifically solid and practice-proven Room Mapping and Ray Tracing calculation modules that were part of EASE 4 have been expanded and integrated. They will be further developed and incorporated in the main program in later version updates.
This strategic approach combines a new platform that provides highly anticipated features and new implementations of familiar tools with existing functionality that is integrated in a modular way. As a result, users can now already benefit from the innovations and do not have to wait for the complete rewrite of the software on the new platform.
EASE 5 First Edition
The first version of the new software - EASE 5 First Edition (EASE 5-FE) - is now available. Users can take advantage of new and more intuitive tools as well as faster workflows for room input, sound system design, and defining the acoustic characteristics of the room. EASE 5 First Edition allows
Quick geometry entry by integrated light-weight editor or CAD file import
Easy tuning of sound system and room acoustics
Precise simulation of SPL, reflection patterns, and RT + STI figures 
Image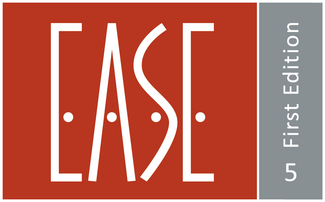 EASE 5-FE is suited for many kinds of projects. While the provided feature set is already a great value for most user groups, some users may not yet find specific tools they need in their workflows, especially when they are in-depth users of EASE 4.4. For these application scenarios, EASE 5-FE will soon provide solutions through continuous feature upgrades.
Find more information and feature details:
 
Get started with EASE 5 First Edition!
Continuous feature delivery
Based on a modern development process and professional quality control, the further development of EASE proceeds at high speed and performance. New features and functions are made available continually in the form of significant software updates.
In this context, the feedback of our users is incorporated into the development process in order to ensure close alignment to their needs. At the same time, frequently necessary adaptations due to changes of the operating system, framework, or underlying technologies are also applied systematically.
What´s on our roadmap?
Image
FAQs
We are aware that the transition to a new software platform is associated with a number of questions. We have tried to address the most important ones and collected them here: