EASE Focus 3 - Free Download
EASE Focus 3 is an acoustic simulation program for 3D modeling of line arrays, sub arrays, digitally steered columns and conventional loudspeakers. Thanks to the support from major loudspeaker manufacturers, EASE Focus 3 is free software for the end user.
The installer includes DEMO data as an example to test the functionality offered by our FIRmaker technology. These GLLs can be found under the brand name "Demo".

Language versions included:
German, English, Spanish, Italian, Portuguese, French.
Title
EASE Focus 3 - Free Download
Image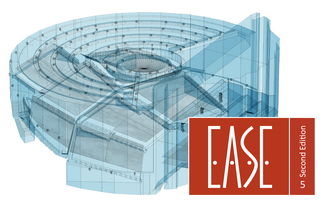 Want to optimize speech intelligibility?
Extend your toolset with EASE 5 JR! Exclusive offer:
20% Discount* for EASE Focus Users
* EASE JR - Initial Fee, 1 Year for 550 EUR, Time limited offer (Regular Price = 690 EUR)
EASE Focus 3 - Free Download
Installer for the EASE Focus 3 Acoustic Modeling Software (Program and Demo Data)
The End User License Agreement for EASE Focus 3 applies.
By clicking the download link to the right you confirm to have read and understood the EULA below!