Get the New AURA Module - Boost your EASE Calculation Performance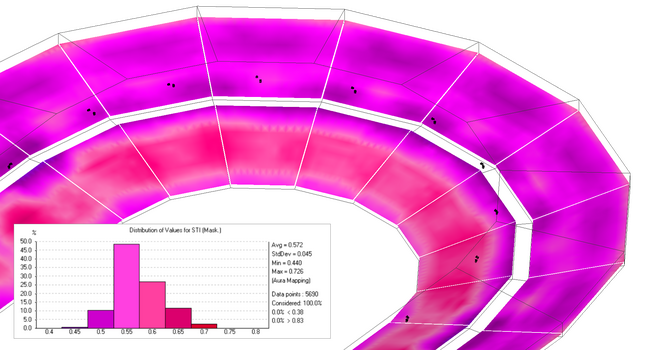 The AURA module - available in combination with EASE® Standard - enables you to perform advanced acoustical investigations. This is made possible by AURA´s hybrid calculation engine which supports multi-threading and thus considerably reduces calculation times for full impulse responses.
AFMG® gladly announces the upgrade of the AURA module to version 4. AURA is now capable of using the entire RAM of 64-bit Windows operating systems. This memory improvement lifts the RAM limit for AURA mappings and for AURA results used for auralization. It also makes AURA 4 significantly faster. Calculation times are shortened by a factor of 2-3 for typical projects.
With AURA 4 it is easier for you to:
Compute mappings and auralization results with higher resolutions.
Calculate projects that contain a large number of loudspeakers or complex speaker systems such as line arrays and steerable columns.
Create auralizations for medium-sized to large projects. Binaural and B-format results computed with AURA response are not limited anymore.
Achieve a more realistic simulation of reflections. The standard curve for the scattering coefficient now takes into account the differences between high and low frequencies.
Select groups of loudspeakers for AURA mapping recombinations.
Give your projects a head start and get AURA 4!
Upgrade to AURA 4 at 550 EUR
New Purchase of AURA 4 at 1.150 EUR

If you are eligible for a free EASE® 5 license or if you purchase an upgrade to EASE 5 after its release, the AURA 4 module you purchase now can be used with EASE 5.