Precise acoustic models in just minutes: AFMG announces EASE 5 First Edition
Image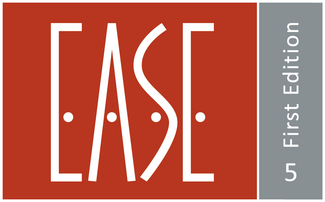 EASE 5 First Edition is now available. With the new software we are excited to address the long-standing request for improved usability and accessibility for EASE. To make that happen, it was necessary to rewrite the software from scratch, put it on a new technological platform, and re-imagine our development process. This new approach allowed us to create a software with
Highlights of EASE 5 First Edition:
Modern user interface: Navigate room models and numerous informative views fluently
Light-weight editor & CAD file import: Enter geometry data and build room models quickly and easily
Hands-on tools: Configure your loudspeakers and acoustic materials within just minutes
Overview window dedicated to acoustic parameters: Easy monitoring of all important quantities
High usability: Finetune your sound system and the room acoustics by following intuitive workflows
Precise simulation: Benefit from the proven and updated EASE calculation modules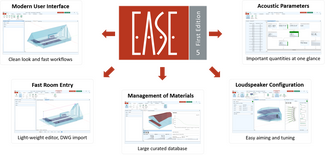 The new software is geared towards simplifying the entire workflow; from the creation of the room model, to the placement of loudspeakers and assignment of materials to quickly get to precise calculations. These then serve as the basis for another round of conveniently fine-tuning the sound system and room acoustics, always keeping an eye on the important acoustic parameters.
Ultimately, EASE 5-FE enables time-saving, highly efficient implementation of:
Sound system validation and planning
Straight-forward analysis of SPL coverage and distribution
Evaluation of room acoustics
Easy tuning of absorption and reverberation time
Calculation of design criteria and metrics
Delay, clarity, speech intelligibility and ISO 3382 parameters at your fingertips
Advanced room-acoustic investigations
Accessible reflection analysis, full-length impulse response calculations and auralization
Due to our short release cycles, we are continuously and rapidly expanding the feature set. Next up this year is the extended grouping of model objects so that projects with greater level of detail in terms of the number of faces and loudspeakers can be realized more conveniently.
Whether you wish to start using EASE for the first time, or have been working with it for a while and consider an upgrade, the new version offers immense advantages that make it a great and future-proof choice.
Have a look at the Introductory Video
Take advantage of our Introductory Pricing
Learn more about the Transition to EASE 5-FE