Image
Innovative toolset and efficient workflows of EASE 5-FE
EASE 5 First Edition offers numerous new tools and workflows which you can now take advantage of.
No matter if you are new to EASE or an experienced EASE 4 user, we want to invite you to take a closer look at the innovative toolsets for managing your project such as views, tables and selection sets. Get insight into the fast and efficient workflows for creating or importing the 3D model, adjusting room acoustic parameters, tuning the sound system and setting up the signal processing as well as conducting STI assessments.
Here is what you can do:
See the full feature list for all tools and workflows offered by EASE 5-FE.
Register for a free trial.
Read our featured articles below:
Featured articles
EASE 5-FE supports full 3D model import from AutoCAD, Rhino, and SketchUp
 
Image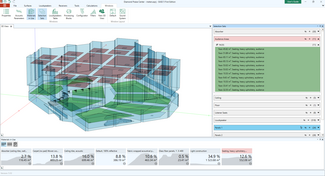 ​​​​​​
EASE 5-FE provides 3D model import in DWG format used by market-leading CAD tools. The convenient and robust import function provides perfect preconditions to start your acoustic project quickly and efficiently.

Read full article


EASE 5-FE facilitates state-of-the-art assessment of speech intelligibility
 
EASE 5-FE provides the complete toolset for standard-compliant evaluation and optimization of Speech Transmission Index (STI) values.

Continuous feature delivery
Continuous feature delivery guarantees stable expansions and on-going improvements. These are based on a roadmap that aims to meet the diverse requirements of our customers for successful project realization.
Since the initial release of EASE 5 First Edition numerous major upgrades have been published, bringing new features and functionality. Please have a look at the EASE 5-FE upgrade history for an overview.

Special offer for easy start and transition
If you purchase EASE 5-FE now, you will get 2 months extra on top of the license term you have chosen. This means:
If you choose a license with a time limit of 1 year, you will receive 14 months access to the software,
If you choose a license with a time limit of 2 years, you will receive 26 months access to the software - including all feature upgrades!
This extra license term puts you in the comfortable position of having more time to familiarize yourself with the software and to prepare your projects for the take-off on the new platform.
Important note: EASE 4 users upgrading to EASE 5-FE will retain their existing EASE 4 license. In this manner, the transition to the new platform can happen smoothly and will take into account already running projects.