AFMG Software Newsletter
- Issue 9, May 2010 (Infocomm Special)
Welcome to a new issue of the AFMG Software Newsletter. With this newsletter we like to inform you about new products, software updates and interesting downloads related to our software. This newsletter also provides information about upcoming classes and AFMG appearances at conventions and trade shows.
You have been subscribed to the newsletter because you expressed interest in AFMG's products in the past. To change your profile or to unsubscribe just click on the link to the left.
Please contact us if you have any questions. Feel free to reply directly to this email or send your comments to support[AT]afmg.eu.
Thank you,
the Team at AFMG.
New EASE Tools Go Beta
AFMG is proud to announce the Beta cycle for a set of new modeling programs related to room acoustics and building acoustics as well as to EASE and EASE AURA.
AFMG SoundFlow is a newly designed software for simulating sound propagation in multi-layered walls. Based on the physical properties of the building materials and the configuration of the wall structure it calculates the absorption coefficient and reflection coefficient as well as the transmission loss for all frequencies and angles of incidence.
Another tool expanding the capabilities of the EASE software and its modules is the new AURA-Remote program. As a plug-in to EASE it allows all AURA users to speed up their calculation times by orders of magnitude using the remote server farm of AFMG.
Last but not least, AFMG finally publishes the software AFMG Reflex to calculate the scattering of sound waves incident on a structured surface or diffusive geometry.
For more information please see our detailed announcement.
EASE 4.3.9 Released
The third maintenance update for EASE 4.3 was published.
Note that the upgrade to EASE 4.3 is free for all EASE 4.0/4.1/4.2 users. It can be downloaded from the
General information about the software can be found here:
Workshops and Presentations at Infocomm 2010
AFMG Workshop - Outlook on Modeling and Measurement Software, Friday 11th of June, 8 AM - 10 AM, Room N207
This 2-hour seminar addresses Beta users and power users of AFMG software and all those who want to know more about the background and the future development directions of EASE, EASERA and SysTune.
In particular the following topics will be covered:
Performing SysTune measurements with iPhone, iPad or any other mobile device
AUBION x.8 - the new, fully digital 8-channel measurement interface by AFMG and DSPECIALISTS
Modeling of sound transmission loss through wall structures - a new EASE calculation module (Details)
Determination of scattering and diffusion coefficients of structured surfaces and diffusors - a new EASE calculation module (Details)
Low-frequency modeling of resonances, room modes and diffraction effects using FEM
Cloud-computing with AURA - new remote calculation cluster for faster simulation results (Details)
Latest additions to EASE, EASERA, SysTune
The workshop is free for all participants of the Infocomm tradeshow.
» AFMG's Show Schedule for Infocomm
RH Booth Presentations Relating to AFMG software
These 15-min presentations will give you a quick overview about the most important aspects of a particular application. Speakers and topics are:
Bruce Olson: "Practical Uses of EASE Auralisation", Wed 2:30 PM
Bruce Olson: "Audio Measurement Tools for Contractors and Consultants - Impedance, Intelligibility, Ambient Noise and Reverb Time Measurements", Thu 1:00 PM and Fri 10:30 AM
John Murray: "SysTune STI and NFPA 2010 Code", Wed 1:30 PM, Thu 12:00 PM, Fri 9:30 AM
Doug Fowler: "SysTune Averaging and Multi-Channel Measurements", Wed 10:00 AM, Thu 9:30 AM, Fri 11:30 AM
Doug Fowler: "SysTune SSA Filter Demonstration and using SysTune Group Delay display to perform Subwoofer Alignments", Wed 4:00 PM, Thu 4:00 PM, Fri 1:30 PM
Stefan Feistel: "Beyond EASE 4.3 - an outlook on new acoustic modeling methods", Wed 11:00 AM, Thu 3:00 PM, Fri 11:00 AM
Stefan Feistel: "Latest trends in measurement tools - updates to SysTune and EASERA", Wed 3:00 PM, Thu 11:00 PM, Fri 3:00 PM
All presentations take place at the RH booth C7622 and are followed by an open Q&A session.
» AFMG's Show Schedule for Infocomm
Data Updates for EASE Focus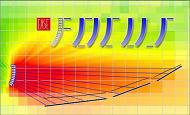 AFMG is proud to announce the first official licensees of EASE Focus v2, AFMG's new 3D line array modeling software:
FZ, Brazil
Turbosound, UK
LD Premium, Germany
K-array, Italy
The following companies recently licensed EASE Focus, the industry standard for line array modeling:
Selenium Electronica S/A, Brazil
K-array, Italy
The following database updates are now available:
GRF: LPA and LK line array systems
The free software download and more information are located here:
EASE (China) Opens Measurement Lab
Headed by Xing (Jack) Sui and located in Hong Kong, EASE (China) will now provide loudspeaker measurement services. All measurements are conducted with a high degree of accuracy utilizing an anechoic chamber in Beijing as well as a sophisticated turning robot manufactured by the German company Four Audio and AFMG's professional measurement software EASERA.
Immediately after its opening, the measurement laboratory resumed its work. A set of Beta Three loudspeakers manufactured by the Chinese company Elder Audio is currently being measured. The resulting loudspeaker data files are verified and then added to the EASE database.
New EASE Loudspeaker Data
For the EASE simulation software package, the following new data files are now available or have been updated:
Belisle Acoustique: Data updates for Transparence series
Beta Three: New GLL loudspeaker data
Community: Updates for the R-Series loudspeakers
d&b audiotechnik: Various E-Series loudspeaker models updated
MeyerSound: New GLL files for UPA-1P, UP-4XP and JM-1P
Silver Acoustic: GLL data file for MMX line arrays
To download the latest data select Help / Database Update in the EASE main window.
Knowledge base
The newly developed, patent-pending spectrally selective accumulation (SSA) filter by AFMG provides a robust means to make accurate measurements in noisy environments or when using speech or music excitation signals. An impressive demo was prepared by Doug Fowler and is located here:
» SSA Filter Demonstration with SysTune
Recently, our Beta user Charlie Hughes wrote a detailed article about all-pass filter designs. He used our software packages SpeakerLab and EASERA extensively. This paper was published in the Voice Coil magazine issue 2/2010.
See page 20 of the online issue located here:
» Voice Coil Magazine - Feb 2010
Spring Classes Review
We would like to provide a brief review of the most recent workshops run by AFMG, Renkus-Heinz and Markus Zehner.
The last EASE class held in Berlin from April 28th-30th, was sold out and all participants enjoyed three days of advanced EASE content, meeting with the developers and establishing new contacts to other professionals. Instructor Emad El-Saghir said: "It was my pleasure teaching this class. It had an exceptionally high level due to the great working knowledge and experience of the participants. We did not even have to touch the basics anymore."
Recent System Engineering classes and SysTune Measurement workshops run by Markus Zehner were also very well received. Especially the new 4-day Sound System Engineering course was warmly welcomed by the community due to its hands-on layout and the inclusion of simple sound system design studies.
As often, this May's EASE class hosted and run by Renkus-Heinz, CA, USA, was completely sold out. For participants from all over the country these entry-level classes taught by Jim Mobley and Jonas Domkus provide a great opportunity to gain professional knowledge and learn how to use EASE within a short time frame.
After 2008, this year AFMG was again present at AES Brazil. Instructor Bruce Olson conducted several training classes and workshops. The interest in EASE, SysTune and other programs was very high so that all classes were well attended.
Please contact us if you would like to:
Host a training class. Include information about the software, preferred area and time period.
Teach a training class. Include your CV and resume of teaching experience.
Take a training class. Include information about the software, preferred area and time period.
This applies to any of our products. Please send an email to support[AT]afmg.eu.
Where to Meet Us
Next events and tradeshows:
Infocomm 2010, Las Vegas, NV, USA, 5th - 11th Jun 2010
» Details
ICA 2010, Sydney, Australia, 23rd - 27th Aug 2010. AFMG has booth 17.
» ICA Details
The AFMG calendar lists all trade shows, lectures and events. Find it here:
Upcoming Classes
Next classes taught by AFMG or partner companies:
Infocomm 2010, Las Vegas, NV, USA, 6th - 7th Jun 2010, "Computer-Based Design and Analysis Using EASE 4.3"
» Details
Infocomm 2010, Las Vegas, NV, USA, 8th Jun 2010, "Collaborating With CAD in EASE 4.3"
» Details
Infocomm 2010, Las Vegas, NV, USA, 8th Jun 2010, "The Impulse Response, Predictions, Measurement and Analysis using EASERA and EASE"
» Details
EASE Training in ShenZhen, China, 8th - 10th Jun 2010
» Details
Renkus-Heinz - SysTune Training with Doug Fowler, Miami, FL, USA, 13th - 14th Jul 2010
» Details
Renkus-Heinz - EASE Training, Foothill Ranch, CA, USA, 16th - 18th Aug 2010
» Details
Please also see our calendar located here:
Loudspeaker Data in EASE, EASE Focus, EASE SpeakerLab and EASE Address
We often receive questions about how to generate loudspeaker data for EASE or EASE Focus. Please see the following links for more details on this and DLL / GLL data formats as well:
» Line Array Modeling in EASE 4