AFMG Newsletter
- Issue 13, March 2011
Welcome to a new issue of the AFMG Newsletter. With this newsletter we like to inform you about new products, software updates and interesting downloads related to our products. This newsletter also provides information about upcoming classes and AFMG appearances at conventions and trade shows.
You have been subscribed to the newsletter because you expressed interest in AFMG's products in the past. To change your profile or to unsubscribe just click on the link below.
Please contact us if you have any questions. Feel free to reply directly to this email or send your comments to support[AT]afmg.eu.
Thank you,
the Team at AFMG.
Unsubscribe / Profile | Newsletter Archive
AFMG Reflex Released: Calculate Sound Scattering and Diffusion of Surfaces
AFMG just released AFMG Reflex, the first commercial software able to model the reflection, diffusion, and scattering of a sound wave by a defined geometrical structure. Besides professionals working with acoustical simulations every day, the software also benefits owners of high-end home studios or similar audio setups.
Within AFMG Reflex the shape of a reflective surface is entered as a two-dimensional cross-section. The reflective properties are displayed as a polar response graph for any angle of incidence and frequency of a sound wave. The scattering and diffusion coefficients are shown as frequency response graphs. Result data can be compared for different angles, frequencies and models and saved directly as a report document. This makes it easy to optimize both diffusers as well as room arrangement.
The software can be used to evaluate diffuser quality and to tune audio installations and room design. Users of the EASE room-acoustic module AURA now find AFMG Reflex as an indispensable tool for calculating the necessary scattering coefficients.
For a trial version and further information please visit:
For details please see also:
News and Discounts for ProLight+Sound
Having taken over distribution of its software products in Germany, AFMG will exhibit at the upcoming ProLight+Sound in Frankfurt, Germany, with its own booth, G45 in hall 8.0. Customers from German-speaking countries will benefit from a 20% welcome discount on all licenses of EASE, EASERA and SysTune throughout April.
» AFMG Press Release (English)
» AFMG Press Release (Deutsch)
There will be several presentations by AFMG at the manufacturer's forum of the associated Media Systems Congress:
Planning and Simulation of Electro-Acoustical Voice Alarm Systems
Multi-Threading "on demand" for Everybody Simulating Room Acoustics
Simulation of Multi-Layered Wall Constructions and Complex Diffusers
New, Simple and Precise Approaches for Delay-Alignment of Subwoofers
At the stand we will be showing new products and advancements, including EASE 4.3 and the new AURA cloud computing service, EASE Focus 2 for line array modeling, measurement packages SysTune 1.2 and EASERA 1.2, EASE Security for simulating speech intelligibility in mass notification systems, AUBION X.8 measurement interface, AFMG Reflex for modeling diffusors and AFMG SoundFlow for simulating multi-layer walls. For details please see:
AFMG Dedicates New Seminar Room
New Seminar Area at AFMG
After several months of remodeling the Berlin office, a new seminar room as well as a new kitchen area are now available. The dedicated area can host up to 18 seminar participants and will be used for EASE and SysTune classes this April for the first time.
New Sound System Design Seminar, Berlin, Germany
Over the last years, AFMG has received many requests for a general-purpose class on sound system design that is not directly related to an EASE training. We have now implemented this for the first time by offering a 3-day entry-level class as well as a 2-day class for advanced professionals.
16. - 18. May 2011 Level 1 (Entry-Level)
19. - 20. May 2011 Level 2 (Advanced)
AFMG - EASE Training, Berlin, Germany
Because of the great demand we have also scheduled a second EASE class for this spring:
27. - 29. June 2011 Level 1 (Entry-Level)
30. June - 1. July 2011 Level 2 (Advanced)
Please also see our calendar located here:
New EASE Loudspeaker Data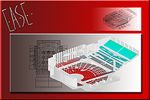 For the EASE simulation software package, the following new data files are now available or have been updated:
d&b audiotechnik: Loudspeaker data for xS series
EAW: Loudspeaker database updated
Fidek: New GLL loudspeaker data
To download the latest data select "Help / Database Update" in the EASE main window.
Where to Meet Us
Next events and tradeshows:
ProLight + Sound 2011, Frankfurt, Germany, 6. - 9. April 2011
» Details
AES Brasil Expo, Sao Paulo, Brazil, 17. - 19. May 2011
» Details
161st ASA, Seattle, WA, USA, 23. - 27. May 2011
» Details
NFPA, Boston, USA, 12. - 15. June 2011
» Details
Infocomm, Orlando, FL, USA, 11. - 17. June 2011
» Details
The AFMG calendar lists all trade shows, lectures and events. Find it here:
Upcoming Classes
Next classes taught by AFMG or partner companies:
Sound System Design Level 1 (Entry-Level)
by AFMG, Berlin, Germany, 16. - 18. May 2011
» Details
Sound System Design Level 2 (Advanced)
by AFMG, Berlin, Germany, 19. - 20. May 2011
» Details
EASE Training Level 1 (Entry-Level)
by Renkus-Heinz, Foothill Ranch, CA, USA, 16. - 18. May 2011
» Details
SysTune Training Level 1 (Entry-Level)
by Renkus-Heinz, Southern California, USA, 19. - 20. May 2011
» Details
EASE Training Level 1 (Entry-Level)
by EASE (China), Beijing, China, USA, 29. - 31. May 2011
» Details
EASE Training Level 1 (Entry-Level)
by AFMG, Berlin, Germany, 27. - 29. June 2011
» Details
EASE Training Level 2 (Advanced)
by AFMG, Berlin, Germany, 30. June - 1. July 2011
» Details
The AFMG calendar lists all trade shows, lectures and events. Find it here:
Loudspeaker Data in EASE, EASE Focus, EASE SpeakerLab and EASE Address
We often receive questions about how to generate loudspeaker data for EASE or EASE Focus. Please see the following links for more details on this and DLL / GLL data formats as well:
» Line Array Modeling in EASE 4
» GLL White Paper, GLL Viewer and additional documents