AFMG Newsletter
- Issue 14, June 2011
Welcome to a new issue of the AFMG Newsletter. With this newsletter we like to inform you about new products, software updates and interesting downloads related to our products. This newsletter also provides information about upcoming classes and AFMG appearances at conventions and trade shows.
You have been subscribed to the newsletter because you expressed interest in AFMG's products in the past. To change your profile or to unsubscribe just click on the link below.
Please contact us if you have any questions. Feel free to reply directly to this email or send your comments to support[AT]afmg.eu.
Thank you,
the Team at AFMG.
Unsubscribe / Profile | Newsletter Archive
AFMG at Infocomm 2011
AFMG will be present at this year's InfoComm in Orlando, Florida, from June 15th to 17th. Please meet us at the stand of our worldwide distributor Renkus-Heinz, booth 421.
There will be two manufacturer seminars by AFMG on Friday, June 17th:
In the morning seminar (8 AM - 10 AM) new AFMG products will be introduced, in particular:
EASE Security - fast and intuitive prediction of speech intelligibility for mass notification systems
AFMG Reflex for modeling the scattering properties of diffusors and other surface structures
AFMG SoundFlow for simulating the acoustic properties (absorption, transmission) of multi-layer walls
The afternoon seminar (12:30 PM - 2 PM) will focus on updates to SysTune and EASE:
SysTune 1.2 - new features of the free upgrade including new Delay Analysis module
EASE 4.3, STI calculations using statistical methods and AURA ray tracing
AUBION X.8, professional 8-channel measurement interface and soundcard
EASERA 1.2 - room acoustic measurements, such as for ISO 3382 (room acoustics) and IEC 60268-16 (speech intelligibility)
Also, during show hours there will be various presentations about AFMG software at the Renkus-Heinz booth.
More Loudspeaker Companies Upgrade to EASE Focus v2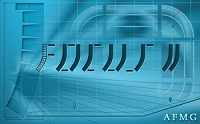 Major loudspeaker companies have recently upgraded to EASE Focus v2, AFMG's new 3D line array modeling software
APG, France
QSC Audio Products LLC, USA
RCF, Italy
The free software download and more information are located here:
Busy AFMG Class Schedule
Spring Classes Review
The spring series of AFMG educational seminars covered basic and advanced EASE training, measurement workshops with SysTune and a new Sound System Design seminar. All very busy! More photos and reports on Facebook:
New EASE Seminars in Asia
During the last years we have received many requests to teach EASE seminars also in the Middle East. Now, AFMG is proud to announce the first EASE training classes taking place in India and in the UAE.
EASE Training, Chennai area, India, supported by Sound Wizard:
3. - 5. October 2011 Level 1 (Entry-Level)
6. - 7. October 2011 Level 2 (Advanced)
EASE Training, Dubai, UAE, supported by Bosch:
14. - 16. November 2011 Level 1 (Entry-Level)
17. - 18. November 2011 Level 2 (Advanced)
Tentatively scheduled. For updates, please contact us at seminars[AT]afmg.eu or check our event calendar below.
Please also see our calendar located here:
New EASE Loudspeaker Data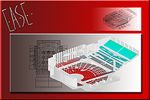 For the EASE simulation software package, the following new data files are now available or have been updated:
APart Audio, Belgium: New GLL loudspeaker data
Community: Updates to iBox and R-Series data
Multistar, Taiwan: New GLL loudspeaker data
Proso, China: New GLL loudspeaker data
To download the latest data select "Help / Database Update" in the EASE main window.
Where to Meet Us
Next events and tradeshows:
NFPA, Boston, USA, 12. - 15. June 2011
» Details
Infocomm, Orlando, FL, USA, 11. - 17. June 2011
» Details
131st AES, New York, NY, USA, 20. - 23. October 2011
» Details
162nd ASA, San Diego, CA, USA, 31. October - 4. November 2011
» Details
The AFMG calendar lists all trade shows, lectures and events. Find it here:
Upcoming Classes
Next classes taught by AFMG or partner companies:
EASE Training Level 1 (Entry-Level) + Level 2 (Advanced)
by AFMG, Berlin, Germany, 27. June - 1. July 2011
» Details
EASE Training Level 1 (Entry-Level) + Level 2 (Advanced)
by AFMG, in Chennai area, India, 3. October - 7. October 2011
» Details
Stay tuned, more seminars for fall 2011 will be announced shortly. The AFMG calendar lists all trade shows, lectures and events. Find it here:
Loudspeaker Data in EASE, EASE Focus, EASE SpeakerLab and EASE Address
We often receive questions about how to generate loudspeaker data for EASE or EASE Focus. Please see the following links for more details on this and DLL / GLL data formats as well:
» Line Array Modeling in EASE 4
» GLL White Paper, GLL Viewer and additional documents