AFMG Newsletter - Issue 19, September 2012
Welcome to a new issue of the AFMG Newsletter. With this newsletter we like to inform you about new products, software updates and interesting downloads related to our products. This newsletter also provides information about upcoming classes and AFMG appearances at conventions and trade shows.
You have been subscribed to the newsletter because you expressed interest in AFMG's products in the past. You may update your preferences or unsubscribe from this newsletter on your profile website. Please contact us if you have any questions and send your comments to support@afmg.eu.
AFMG and Renkus-Heinz Restructure Partnership
Renkus-Heinz and AFMG have announced the restructuring of their long-standing strategic relationship. Beginning on October 1, 2012, AFMG will provide direct sales, technical support and training worldwide for their acclaimed acoustical measurement and simulation software products including EASE, EASERA and SysTune.
"The relationship between AFMG and Renkus-Heinz goes back more than 20 years, and will continue well into the future," remarked Renkus-Heinz President Harro Heinz. "As AFMG keeps growing, the company is ideally suited to provide the best support for their products, and we stand behind their decision to do so."
"Renkus-Heinz has always been one of our biggest supporters," added AFMG's Managing Director Stefan Feistel. "The enthusiasm and professional attitude of Harro Heinz and his team helped us get on the road in our early years for which we are deeply thankful. Our companies will continue to have a great working relationship in future projects."
» All AFMG Products and Prices
Main Distribution and Support Structure
AFMG offers sales and support for all their products directly from their German and US-based headquarters:
Worldwide Sales & Support
sales@afmg.eu
support@afmg.eu
+49 / 30 / 467 092 – 30
GMT+1 office hours

Americas Sales & Support
sales@afmg.eu
support-us@afmg.eu
+1 / 855 / 411 – AFMG
GMT-6 office hours (central time)
AFMG Patents Real Time Technology
AFMG's prime measurement software SysTune finally achieves accolades for years of scientific research and development. Patents in the US and Germany have been granted to AFMG for their Real Time Deconvolution technology. Further patents are pending.
Real Time Deconvolution algorithms are the significant factor in SysTune's unrivaled performance at impulse response processing. No other audio measurement software is able to deliver full-length impulse responses and other measurement data derived from them in real time.
AFMG Software Updates
The following free software updates have been published recently:
EASE Evac v1.1.2 (Sep 2012)
Fast Design of Acoustic Evacuation Systems

» Details

EASE Focus v2.2.2 (Sep 2012)
3D Aiming and Acoustic Modeling Software

» Details

AUBION X.8 Software v1.0.7 (Aug 2012)
Professional 8-Channel Data Acquisition System

» Details
AFMG Expands Marketing and Sales Team
In the course of restructuring its distribution and taking over worldwide sales of all its software products, AFMG expands its marketing team by Steffi Rehbein.
Steffi Rehbein will focus on strengthening AFMG's international marketing and sales activities. Stefan Feistel, managing director of AFMG is pleased. "We are proud to have won Mrs. Steffi Rehbein as an experienced and committed professional for our team. Her educational background in business administration and her profound working experience in modern marketing make her the ideal fit for our company's current size."
EASE Focus v2 Group of Supporters Grows
EASE Focus v2 now has more than 30 licensees worldwide. Most recently the following companies joined the group of supporters: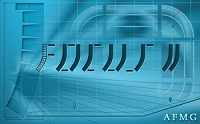 Community Pro, USA
KS AUDIO, Germany
LAX PRO, China
The first loudspeaker manufacturers are already supplying data for regular loudspeakers in EASE Focus 2:
Amadeus, France
APG, France
LAX PRO, China
The free software download and more information are located here:
New Loudspeaker Data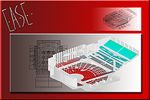 For the EASE, EASE Evac, EASE Focus and EASE Address simulation software packages, the following new data files are now available or have been updated:
Cooper Notification: New GLL data files
Equipson: GLL data for WORK and WORKProCA series
JBL-Professional: Updates for CBT Series and AE All Weather Series
KS AUDIO: GLL data for line array systems
LAX PRO: New GLL loudspeaker data
SoundBarrier: New GLL loudspeaker data
To download the latest data for EASE select "Help / Database Update" in the EASE main window.
To download the latest data for EASE Evac go to EASE Evac Downloads and follow the instructions.
To download the latest data for EASE Focus go to EASE Focus Downloads and follow the instructions.
To download the latest data for EASE Address go to EASE Address Downloads and follow the instructions.
Upcoming Classes
Next classes taught by AFMG or partner companies:
Italy

EASE Training, Reggio Emilia, Italy:
This seminar is hosted by RCF.
Spain

Sound System Optimization and Measurement Training, Barcelona, Spain:
This seminar is hosted by Master Audio.
Sweden

Sound System Optimization and Measurement Training, Stockholm, Sweden:
This seminar is hosted by Luthman.
UK

EASE Compact Training, Letchworth/London, UK:
This seminar is hosted by Sound Technology.
USA

EASE Training, Foothill Ranch, CA, USA
This seminar is conducted by Renkus-Heinz.
More classes have already been scheduled. The AFMG calendar lists all trade shows, lectures and events. Find it here: